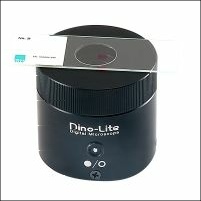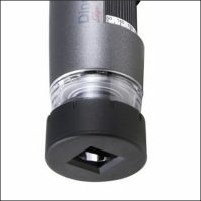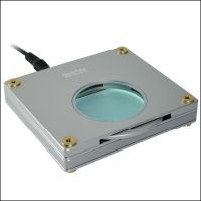 The Dino-Lite backlight stage BL-CDW allows two different types of lighting: brightfield and darkfield. In the brightfield mode, the light is transmitted from below the sample that shows up vividly showing the form and structure of the specimen on a bright background. With darkfield illumination, the transmitted light will not reach the microscope and will therefore not be part of the image.
BL-CDW - Price £230.22 + vat
The N3C-A coaxial light cap is a useful accessory for the Dino-Lite Edge models from the Long Working Distance range. Especially difficult to inspect surfaces such as metal, plastics or glass benefit from this addition.Inside the small and light front cap an ingenious mirroring system with a beam splitter has been integrated. The coaxial lighting does also eliminate disturbing shadows making it easier to look inside small holes in the material being inspected.
N3C-A - Price £87.11 + vat
The BL-ZW1 backlight accessory opens up a whole new range of applications. The BL-ZW1 can be powered over USB or the DC adapter. The backlight has a built in, freely rotatable polarizer. The accessory is ideally suited to work with Dino-Lite models that have the polarization filter
BL-ZW1 - Price £194.67 + vat



Dino-Lite Light & Control

All prices exclude VAT which is added to orders from within the EEC